Short Description:
Subsoil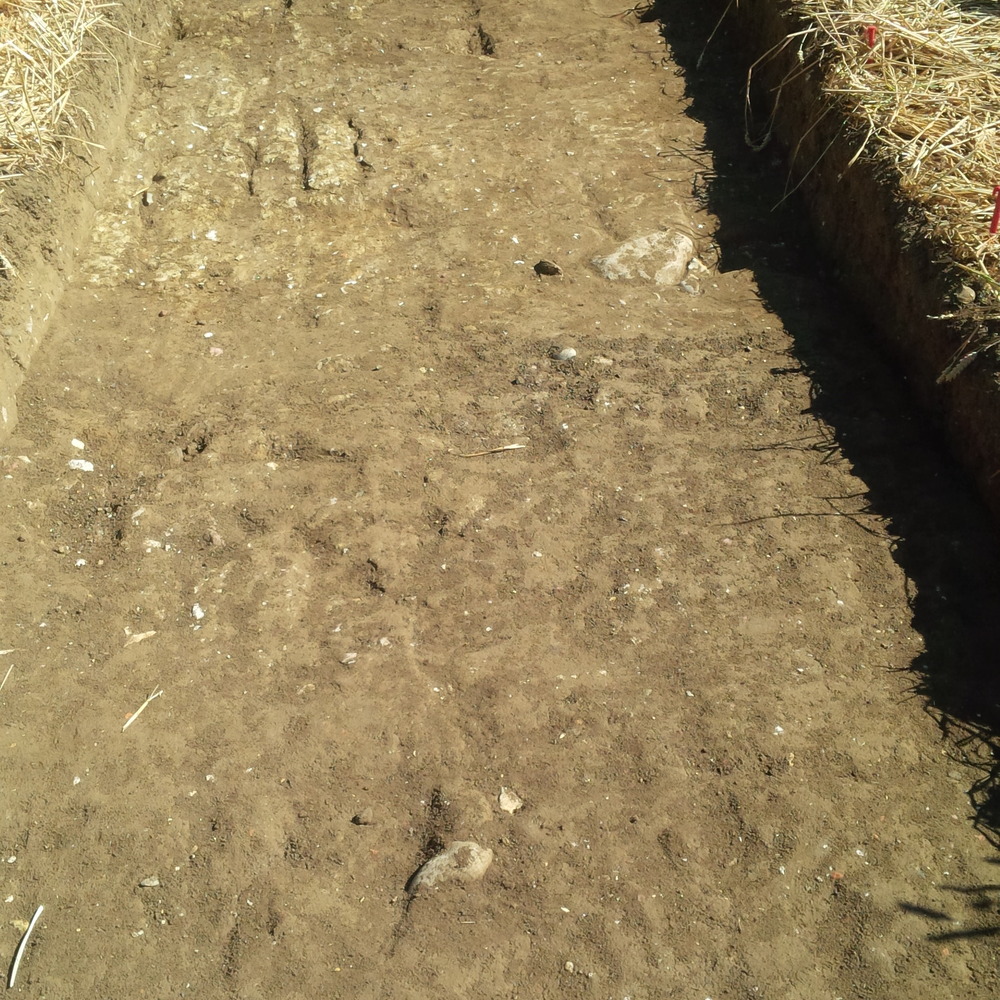 Interpretation
Sub-soil - heavily ploughed from potato crop in 2014.

30-7-2015
Stratigraphic Matrix
Equal To

No Linked Records
Description
Loosely to tightly compacted, plough furrows

Greyish-yellowish light brown

Sandy clay

Roots, flint, chalk, CBM

Length 10.0m+ Width - 2.0m+

Excavated in 9 segments each 1m wide, to assess for finds recovery and establish impact of ploughing regime on buried archaeology. Pottery assemblage from this context consists of 6 pieces Late Hedingham-type Ware mid 14th-15th C. (P327), 6 pieces LMTI & III (P401/3), 1 piece Langerwehe Stoneware (P404) - late 14th - late 15th C., 4 pieces Raeren/Aachen Stoneware (P405) - late 15th - mid 16th C., 1 piece Frechen/Cologne Stoneware (P407) - mid 16th - 17th C., 5 pieces Glazed Red Earthenware (P425) - 16th - 19th C. and 3 pieces of modern Miscellaneous 19th - 20th C. wares

Machine, trowel. Light rain to sun.
Finds
| Findtype | Quantity (No. fragments) | Weight (g) | Notes |
| --- | --- | --- | --- |
| Ceramic Building Material | 96 | 1313 | Segment 2 |
| Ceramic Building Material | 4 | 159 | |
| Glass | 1 | 3 | modern |
| Shell | 2 | 18 | Oyster |
| Other (add to description) | 1 | 1 | possibly vitrified glass |
| Pot | 1 | 8 | |
| Shell | 44 | 189 | Segment 2 |
| Ferrous Object | 10 | 180 | Segment 2 |
| Animal Bone | 15 | 169 | Segment 2 |
| Glass | 12 | 16 | Segment 2 |
| Ceramic Building Material | 8 | 398 | Segment 3 |
| Flint | 1 | 8 | Segment 3 |
| Shell | 7 | 57 | Segment 3 |
| Ferrous Object | 1 | 5 | Segment 3 |
| Glass | 7 | 14 | Segment 3 |
| Animal Bone | 2 | 13 | Segment 3 |
| Ceramic Building Material | 34 | 1281 | Segment 1 |
| Animal Bone | 5 | 20 | Segment 1 |
| Glass | 3 | 7 | Segment 1 |
| Shell | 2 | 14 | Segment 1 |
| Pot | 6 | 45 | Segment 1 |
| Ceramic Building Material | 205 | 1016 | Segment 4 |
| Glass | 13 | 28 | Segment 4 |
| Shell | 8 | 38 | Segment 4 |
| Flint | 2 | 10 | Segment 4 |
| Ceramic Building Material | 187 | 826 | Segment 5 Bag 2 |
| Other (add to description) | 2 | 590 | Segment 2, Limestone |
| Pot | 10 | 67 | Segment 2 |
| Pot | 5 | 26 | Segment 4 |
| Animal Bone | 3 | 12 | Segment 4 |
| Other (add to description) | 1 | 6 | Segment 4, charcoal |
| Glass | 1 | 2 | Segment 4, vitrified |
| Ferrous Object | 2 | 26 | Segment 4 |
| Ceramic Building Material | | | Segment 8 |
| Shell | | | Segment 8 |
| Glass | | | Segment 8 |
| Pot | 5 | 33 | Segment 8 |
| Animal Bone | 1 | | Segment 8 |
| Flint | 13 | 43 | Segment 2 |
| Other (add to description) | 3 | 12 | segment 2, coal |
| Ceramic Building Material | 10 | 156 | Segment 5 |
| Glass | 4 | 13 | Segment 5 |
| Ferrous Object | 5 | 114 | Segment 1 |
| Ceramic Building Material | 62 | 1617 | Segment 7 |
| Animal Bone | 1 | 32 | Segment 7 |
| Pot | 1 | 15 | Segment 7 |
| Glass | 4 | 15 | Segment 7 |
| Shell | 1 | 19 | Segment 7 |
| Other (add to description) | 2 | 10 | Segment 7, charcoal |
| Ferrous Object | 1 | 18 | Segment 4 |
| Ceramic Building Material | 33 | 931 | Segment 6 |
| Shell | 10 | 42 | Segment 6 |
| Animal Bone | 1 | 19 | Segment 6 |
| Pot | 3 | 45 | Segment 6 |
| Glass | 4 | 9 | Segment 6 |
| Metal | 1 | 13 | Segment 6 |
| Clay Tobacco Pipe | 1 | 7 | Segment 2 |
| Ceramic Building Material | 127 | 3418 | Segment 9 |
| Ferrous Object | 2 | 19 | Segment 9 |
| Shell | 16 | 107 | Segment 9 |
| Glass | 10 | 22 | Segment 9 |
| Copper Alloy Object | 1 | 4 | Segment 9 , nail? |
| Pot | 1 | 9 | Segment 9 |
| Animal Bone | 7 | 100 | Segment 9 |
Plan
Mid-ex Trench 19

Ben Bazeley

16-7-2015