Short Description:
Fill of gully [9009]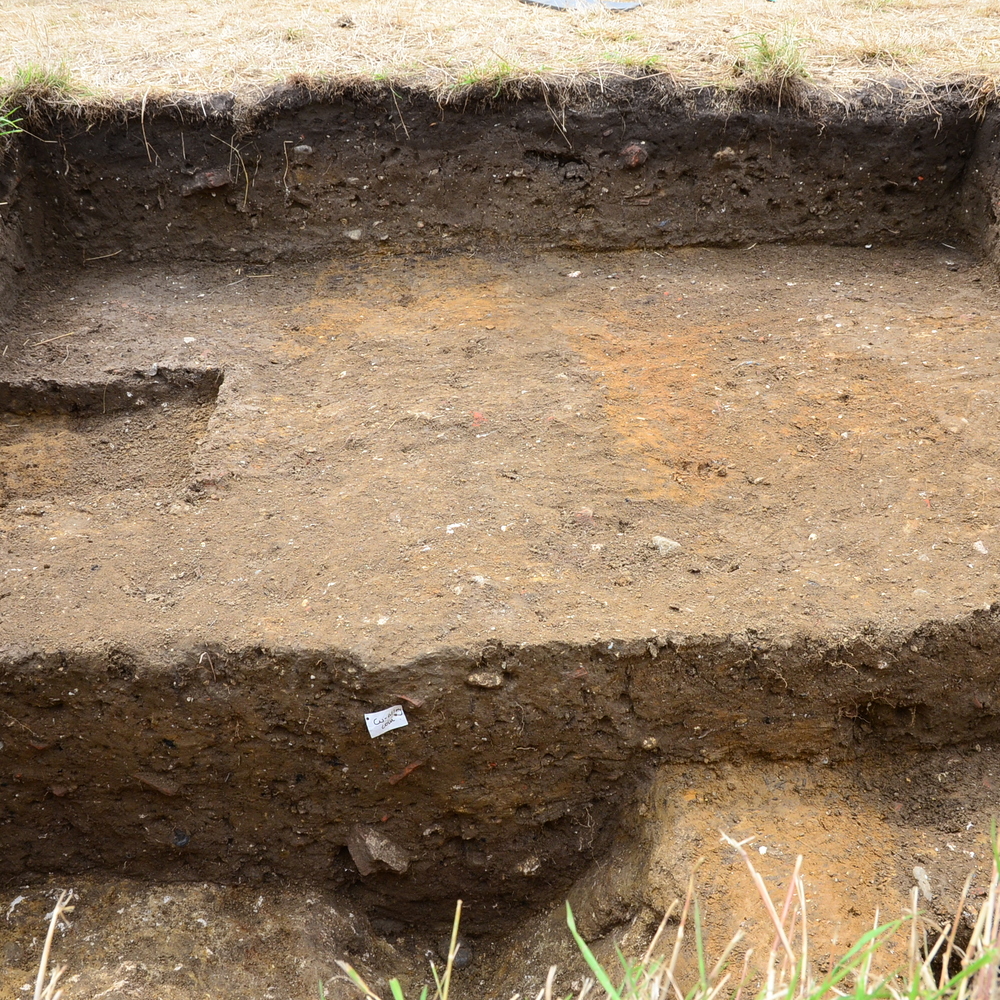 Interpretation
Fill of post-medieval midden pit

22-7-2014

Fill of gully [9009]. Filled with soft, dark black-brown clayey silt with occasional inclusions of charcoal flecks. (9013) is equal to (9008).

5-12-2014
Description
soft

Dark brown black

clay silt

occasional charcoal flecks

0.28+ x 0.47+ x n/a

There was variation in the fill in terms of composition - the fill in the drain [9009] felt more loose however after examining the finds from (9013) and (9008) two pieces of conjoining pot were found. Due to this (9013) is equal to (9008) Pottery finds are: 1 piece of Late Hedingham type Ware (P356) - Mid 13th - mid 15th Century and 50 pieces of Late Medieval Transitional Ware LMTI &LMTII (P401/2) - ca 1400 - 1600

trowel, mattock, shovel, dry sieved, sunny.
Finds
| Findtype | Quantity (No. fragments) | Weight (g) | Notes |
| --- | --- | --- | --- |
| Bone | | 14 | Sample 45 |
| Ceramic Building Material | 5 | 453 | |
| Ferrous Object | 1 | 7 | Sample 45 Small Find 86 |
| Glass | 5 | 9 | Sample 45 |
| Metal | 5 | 50 | ? |
| Pot | 51 | 158 | 15thC, P327, P401, P402 |
| Shell | 18 | 113 | Sample 45 |
| Other (add to description) | 1 | | Jet Sample 45 Small Find 83 |
| Pot | 1 | 2 | Sample no 45 / Small find no. 86 |
| Pot | 1 | 22 | Sample 45 Small find 85 |
| Ceramic Building Material | | 108 | Sample 45 |
Feature
Gully - possibly drain associated with monastic phase
Samples
Matthew Juddery

19-7-2014